Who doesn't love going to the countryside for a breath of fresh air? There's something about clean air that puts our minds at ease. If only there was a way to get fresh smelling air inside our homes, too.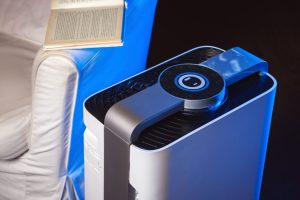 Even though we don't have cars or exhaust pipes inside our homes, that doesn't mean the air is clean. In fact, indoor air can be even more polluted than outdoor air in some settings.
How can you keep the air inside our buildings safe to breathe? You can start by installing an air scrubber or air purifier—but what's the difference between the two?
We're going to examine how each of these systems work to help you determine which is right for your home or business. In other words, we're here to clear the air about air cleaners!
With an air purifier or air scrubber, you can drastically improve the indoor air quality in your home or business. Let's dive into it:
What is an Air Scrubber?
Air scrubber technology relies on an ionization process. UV light technology is used to generate negative ions, which are released into the air to attract pollutants (positive ions). When those ions return to your air scrubber, they're captured and eliminated by the filters.
At Classic Air Conditioning & Heating, we carry an air scrubber called the Aerus Hydroxyl Blaster. With the capacity to scrub the air in areas up to 20,000 sq. ft., you can rest assured that your indoor air will be free from contaminants. Air scrubbers even have the capability to clean surfaces instead of the air alone.
The device uses a combination of wet and dry scrubbers to remove impurities entirely. The wet scrubbers are slightly damp, while the dry ones (as you might have guessed) are dry. Using both of these eliminates contaminants like dust, pollen, and harmful particles.
Some air scrubber models are portable, so you can take them on the go with you to different worksites. It's more common for air scrubbers to be used in commercial or industrial applications, depending on the specific model.
What is an Air Purifier?
An air purifier attaches directly to your HVAC system. Inside most air purifiers is a HEPA filter, which stands for high efficiency particulate air filter. This filter makes air purifiers effective at eliminating allergens and mold spores from the air. Even tiny particles can be filtered out with the HEPA filter, which removes up to 99.97% of airborne particles. This includes pet dander, smoke, and pollen.
Air purifiers release regulated quantities of ozone into the air, which neutralize bacteria and allergens. They also contain carbon filters, which are used to eliminate odors, like smoke, from the air. Not only will your air be clean, but it will smell clean, too!
A whole house air purifier can remove pollutants and bad odors from your home.
The Benefits of Cleaner Air
Polluted air can negatively affect your respiratory health. This is especially difficult for those with asthma and allergies. If you're exposed to poor indoor air, you could experience side effects like dizziness, congestion, shortness of breath, fatigue, and headaches.
Given how much time we spend indoors, we're exposed to these pollutants for most of our lives. You've decided that you need air filtration for everyone's health and safety. But which one is best suited for your needs?
Choosing Between an Air Scrubber and an Air Purifier
Since an air scrubber doesn't use a HEPA filter, you won't need to maintain or replace components as often. However, that filter allows air purifiers to keep allergies and asthma at bay.
In general, an air scrubber is best suited for commercial settings, while an air purifier is optimal in a home.
Whether you're looking for air conditioning repair in New Braunfels or add-ons for your HVAC system, we can help! Call Classic Air Conditioning & Heating today, and we can help you decide whether an air scrubber or an air purifier is right for you.