Heating in New Braunfels
FREE Service Calls! Never a trip charge.
Everyone knows Texas is hot. What few people realize is that it can be cold, too. You need to live here to know that.
You do live here, so you've been in New Braunfels on a cold January evening. You know how quickly the temperature in your home can plunge if your heating isn't working properly.
You deserve to live in comfort – to provide a warm and welcoming home for your family and friends. You need reliable home heating – the kind that's going to get you through the winter without breaking the bank.
Classic Heating and Air Conditioning is a New Braunfels company, and we're family owned. We pride ourselves on taking care of our customers as though they were our own family. That means friendly, punctual technicians who are willing to go the extra mile to help you. It means honest pricing, open dialogue, and reliable service.
As the old saying goes, anyone can talk the talk – what matters is whether or not you can walk the walk. Here's how we ensure your satisfaction:
We offer free service calls.

You can speak to the owner of the company, John Magninat, anytime you have questions or concerns.

We offer 0% financing.

We offer both Trane and Lennox products – they're two of the best in the industry; that means a wide selection, which means more options to serve you better.

We've been serving New Braunfels since 2005.
As for our professionalism, please take a look at our reviews. We're proud to have so many satisfied clients, and an A+ rating from the Better Business Bureau. When we say we're a family company, we mean it – we'll treat you well.
Take Advantage Of Our Limited Time Offer!
$97 Off Any Service Repair
Call to Schedule: (830) 358-1499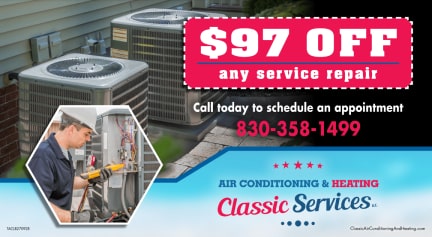 There's more than one way to heat a house. That's why we offer both Trane and Lennox heating products – that means high-efficiency furnaces, heat pumps, and split systems. 
When it comes to installing the right heating system, expertise is essential. No two homes are exactly the same – when it comes to load calculations, you have to consider not just the size of the home, but its occupancy and level of insulation, as well. 
A heating system with too high an output will power cycle frequently and quickly break down. Too low, and your home is cold. Either way, you're losing money if you don't buy the right system for your home.
We can help. When it comes to buying a new heating system, it's not about getting the biggest, most expensive piece of equipment you can find – it's about finding the right system for your needs. We'll discuss your needs and your budget to find a heating solution that works for you.
Energy efficiency, air quality, and more
When it comes to HVAC systems, there are a lot of factors you might want to consider:
Will this system pay for itself? If so, how long will it take?

Does this system provide enough heating (or cooling) for my home?

Is this system environmentally friendly?

How does my HVAC system affect my air quality?
We have answers for all of these questions – give us a call, and we can take a look at your existing HVAC systems and give you feedback. When a furnace is over 15 years old, for example, you can often save money pretty quickly by replacing it.
Customer service is our top priority, so if you're thinking about repairing or replacing your furnace, give us a call – we'll give you an honest breakdown of the costs of repairing or replacing, and the benefits you might get from a new furnace.
Free Service Calls.  Impeccable Quality & Professionalism!
Contact Us
Schedule a Free Service Call & In-Home Estimate Today.
Furnaces are built for your comfort. That means if your furnace is making you uncomfortable, it's not working properly. Some signs your furnace might need repairs include:
Your home isn't warm enough.

Your furnace is making strange noises.

Your energy bills are skyrocketing.
There are all kinds of potential problems. Some can be fixed pretty easily – a new filter or a quick fix to the thermostat. Others require more work. When possible, we'll give you suggestions over the phone to save you money – if it's a problem you can fix yourself, like a new filter, there's no need to pay us.
Other times, you'll need one of our technicians to come down and repair your furnace. When that happens, we can give you a cost breakdown to help you decide whether repairing or replacing is best. For most newer units, a simple repair will be all you need.
The heat pump might just be the best heating system for New Braunfels. Heat pumps are perfect for spots that don't get too cold – they basically work like reverse air conditioners. Even when it's cold out, heat can be extracted from the air and used to heat your home.
That means you can save a lot of money on heating each year – heat pumps tend to be much more efficient than gas furnaces. You can also use your heat pump to cool your home in the summertime!
We offer heat pump repair and installation. We highly recommend them for well-insulated homes – the better your insulation, the more efficiently HVAC systems can work!
Whether you want a free estimate on a new furnace or you need emergency repairs done fast, give us a call. Our technicians are here to help with all of your heating and cooling needs.
See What Our Customers Are Saying
[testimonial_rotator id=180]