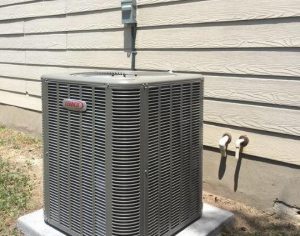 Do you really need to leave your HVAC system running when you're not in the office? It's a good question! Adjusting the thermostat can sometimes be intimidating—you want to cut down on unnecessary spending, but you don't want to turn your workspace into a hot, humid mess. Will it save you money to shut off your AC, or are you better off taking your chances? To help you make this decision, we've listed some of the pros and cons of turning your AC off when you're away from the workplace:
Advantages:
Businesses are always trying to manage their budgets; a closer eye on the thermostat is one way of bringing down heating and cooling costs. The biggest advantage to this is that when you turn off your unit, it uses less energy; you'll see a difference in your utility bills. Does your office have a programmable thermostat? This is a great way to control indoor temperatures without turning off the unit entirely. You can schedule specific times to decrease energy usage, like outside of working hours. 
Turning off your AC when it's not in use will reduce your carbon footprint. It also brings down your energy usage. Alternatively, if you want your office to be greener, you can invest in an energy-efficient HVAC system. 
The less you use your HVAC system, the less damage it will endure. More usage means more wear and tear on the components of your unit. If you shut the AC off at night, you may deal with fewer repairs, and delay the cost of a total replacement. There are other ways to protect your AC system from damage, like having it serviced regularly and changing the filters every 3 months. 
Disadvantages:
If you shut off your AC in the evening, the staff members who arrive early in the morning may find the working conditions to be unpleasant. The comfort levels of your employees will directly contribute to their productivity—one study found that when employees were cold, they made 44% more errors. If an employee has to spend more energy regulating their body temperature, they'll have less to put towards working. When the office is hot and stuffy, employees will be easily distracted and more prone to making errors, as well.
One lesser-known function of air conditioners is that they dehumidify the air. If your air conditioner is shut off at night, it can allow moisture to accumulate. If your office has wooden floors or baseboards, this can cause mold issues. High humidity can also negatively affect computer equipment.
How hot is it where you live? If your air conditioner is off all night, then temperatures may rise to high levels in the morning. That means your AC will need to work much harder to regulate the temperature once it's turned back on. This can negate any energy savings that you may have been trying to achieve. If you're thinking about turning off the AC, check the weather forecast first. 
The Verdict:
The answer depends on the climate of your office's location, the efficiency of your AC unit, and how sensitive your employees are to temperature differences. You may want to weigh those options carefully before making your decision. 
If you're experiencing any issues with your HVAC system, call Classic Air Conditioning & Heating; we offer AC repair in New Braunfels. You can always trust our prompt, reliable, and professional services.