AC Repair New Braunfels and Surrounding Areas
The #1 Family Owned and Family-Oriented HVAC Company serving New Braunfels & the Texas Hill Country for 20 Years.
Cooling
Air conditioner repair, installation, replacement, and maintenance from our certified technicians.
Heating
Professional Furnace repair, installation and maintenance in New Braunfels and surrounding areas.
Maintenance
Experience Lower Energy Bills, Improved Indoor Air Quality, and Extended Lifespan of Your Unit with Our Maintenance Services – Don't Wait Until It's Too Late!
HVAC new systems
Local authorized dealer for Lennox and Trane HVAC equipment which are the two most energy-efficient and reliable brands on the market.
AC Repair & Heating Solutions 
For reliable air conditioning & heating services in New Braunfels, choose Classic Air Conditioning & Heating. As a locally owned company, we understand the Texas climate and how critical it is to have an efficient HVAC system. Our team of skilled technicians aim to provide affordable heating and cooling solutions to homeowners throughout New Braunfels and surrounding areas like Boerne, Bulverde, Cibolo, Fair Oakes Ranch, Garden Ridge, Kyle, La Vernia, San Antonio, San Marcos, Schertz, Spring Branch and beyond.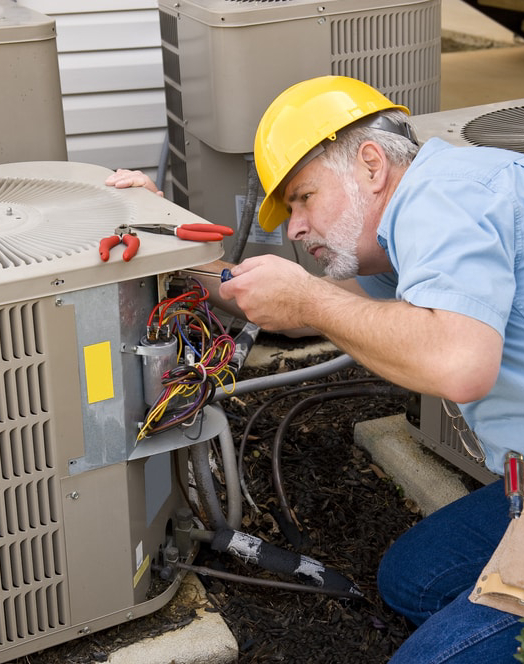 AC Repair
Is your AC on the fritz when you need it most? Let our experienced technicians get your system up and running again fast. We offer quick response times and quality repairs you can count on.
AC Installation
Beat the sweltering temperatures with a new, energy-efficient Lennox HVAC unit installed by our experienced professionals. We take care of the whole installation process, so you can enjoy cool comfort. Call today for a free estimate!
HVAC Systems
Customized HVAC systems for expert climate control. Our technicians evaluate your home's size, layout, insulation and other factors to design the ideal heating and cooling system. We handle professional equipment selection and installation so every room enjoys draft-free comfort. Contact us today for a free consultation!
Ductless AC
Forget noisy, leaky ductwork – upgrade to whisper-quiet ductless AC! Our technicians provide professional installation of compact units ideal for garages, additions or other spaces requiring an independent climate control system. Stay comfortable on the hottest days!
Furnace Repair
Furnace problems tend to arise at the worst times. Don't wait until winter to discover issues! Schedule a furnace tune-up with our technicians now to inspect, adjust and repair your system before cold temperatures arrive. Be proactive and maximize furnace life and performance.
Furnace Installation
Old, inefficient furnaces can really drive up your energy bills. Upgrade to an energy efficient system and enjoy greater comfort with lower heating costs! Our technicians expertly size, recommend and install high-quality furnaces tailored to your home's needs. Contact us today to schedule your free estimate!
Heat Pumps
Heat pumps are a versatile, eco-friendly option for whole-home climate control and hot water. Our technicians are experts at sizing, recommending and installing ducted and ductless systems for optimal performance and energy efficiency. Take control of your home's comfort and carbon footprint!
Indoor Air Quality
Breathe easier with our indoor air quality services! Our technicians can identify and reduce airborne irritants and allergens in your home using proven methods such as air filtration, UV lights and professional duct cleaning. Let us customize an IAQ solution for you!
Commercial HVAC
Invest in quality HVAC equipment for your commercial property. Our technicians are experts at installing and maintaining large-scale systems to meet the unique needs of your business. Proper climate control keeps employees happy and facilities running smoothly.
AC System Maintenance Plan
Prolong the lifespan of your HVAC system and avoid major repairs by joining our Maintenance Club Plans. As a member, you can experience significant savings over the life of your HVAC system thanks to regular system tune-ups and extended warranties.
Enrolling in an annual maintenance plan with Classic Services can ensure that your cooling system or heat pump continues to operate smoothly and efficiently over time through routine maintenance, you can lower your utility bills and extend the life of your HVAC system. Regular maintenance also helps keep your warranty intact and can increase the value of your home when you decide to sell it. Call us today to join the maintenance club plan that's right for you!
The benefits of routine maintenance include:
Lowered heating & cooling costs
Decreased efficiency also means increased energy bills, as units work much harder to maintain thermostat settings. Classic Service can save you money over time, offer better energy efficiency, air quality and decreasing your bills.
HIGH LEVEL OF EFFICIENCY
Without regular cleaning, cooling units may lose their efficiency, making it difficult to have reliable and responsive temperature control.
Longer service life
Routine maintenance is the best way to prolong the service life of your units, ensuring reliable temperature control for years to come.
Barbara Williams
2023-02-25
Installation of new HVAC system today! Mason and Chris were amazing, thorough and professional! If their maintenance is this great it will be amazing
Five stars for everything... friendly, answered all my questions, courteous, and professional. feel like family, we are stuck with them. Highly recommended company.
Awesome experience! Very professional and reasonably priced. Will use for all system maintenance and repairs.
I love this company. Their technician Mitchell is super knowledgeable and helpful. He fixed issues with our heater that everyone else missed. We noticed a huge difference this year when it got really cold.
mac vanheldorf
2022-12-20
We had been with our previous AC company for over 6 years with maintenance contracts. They had quoted us an unrealistic price for installing some UV lights. We went in search of another quote. My husband called around to three different companies. Classic responded with a great telephone conversation and seemed to really want our business. They had a representative come within 3 days . The technician was very honest about what he found. He had quotes to us that very afternoon. The technician installed the equipment and we now have new maintenance contracts in place. We also love that they are local in New Braunfels. The old company never inquired as to why we were leaving them. Very satisfied.
Timely, professional, and addressed all my concerns.
We love Classic AC and Heating! Every time we have called, they've made it a priority to show up quickly to make sure we were taken care of!
Classic AC Heating – Service Areas
Based in New Braunfels & Boerne, we serve San Antonio and most of the surrounding Texas Hill Country.  See our service area map & areas served below.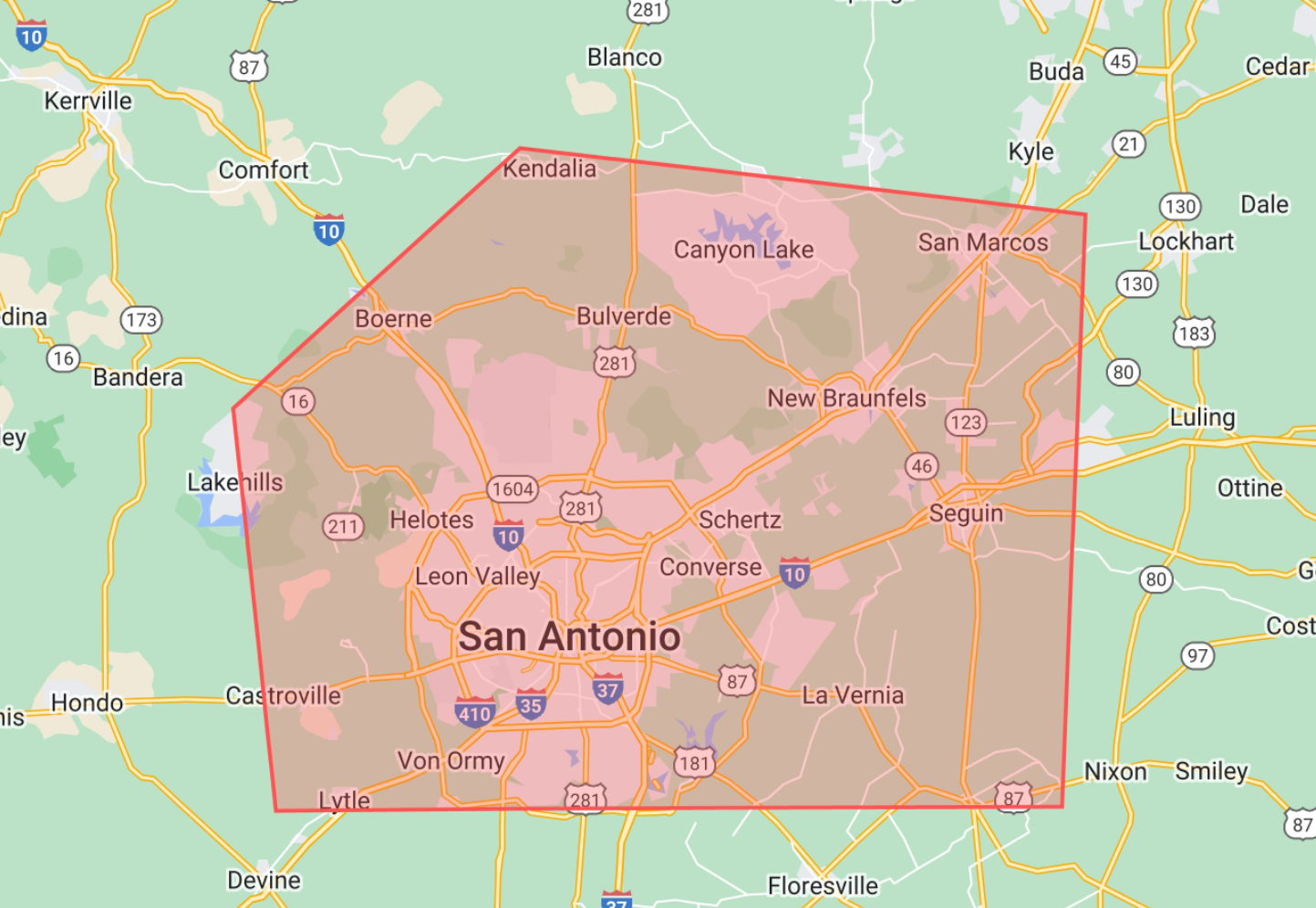 1893 State Highway 46 South
New Braunfels, TX
78130
United States
Frequently Asked Questions
What Is The Best Indoor Air Quality Product?
Here at Classic Services, we install the Air Scrubber Plus Whole Home Air Purifier. Developed by NASA, the Air Scrubber Plus has a 99% kill rate on most mold, virus, and bacteria growth in the home. The system helps reduce dust in the home as well as neutralize odors. The system also creates hydroxyls to sterilize counter tops and surfaces. Air Scrubbers are a great addition to households that have people who have problems with allergies. These systems help you experience the best possible air quality in your own home.
Why is it important to have regular maintenance on my system?
Regular maintenance is a big part of keeping your air conditioners and furnaces running at there peak performance. Maintenance allows the homeowner to address the smaller, more underlying issues that can lead to major problems down the road. Maintenance is also good to help prevent such as clogged drains or cleanliness issues. Here at Classic Service, we go the extra mile to clear drain lines, chemically treat drains after clearing, and wash outdoor units. With proper maintenance you can not only help extend the life of your Air Conditioner, but also help avoid failures during the New Braunfels heat.
What Brands do you install and service
What payment Options do you have?
All Major credit cards : Visa, Amercian Express, Discover, Mastercard
& Financing
I need help troubleshooting a problem with my equipment?
Visit our contact page; we can help: 
How long do air conditioners last?
A properly maintained system has an average life expectancy of 12-15 years. After about 10 years, the system starts losing efficiency. The system does not transfer heat as well, which in return causes the system to not blow out as cold. This can lead to longer run times, which in return can cause higher electric bills. At Classic Service, we offer a wide array of air conditioning options ranging from your basic economy options all the way up to your premium options. Our technicians sit down and take the time to find out what is best for you and your family living in the home.
What does my warranty cover?
Most major brands today come with a 5-year parts warranty. Most will offer an extended warranty with customer registration at the time of installation. These parts warranties cover failures for most parts of the unit. These parts can range from indoor and outdoor motors, all the way up to coils and compressors. While these systems come with parts warranties, most of them do not cover labor. Here at Classic Service, we offer a variety of labor warranty options that can be paired with your manufacturers' warranty. These labor warranties help give the homeowner the peace of mind that they are covered in the event of a failure of the system.
Why is my AC system freezing up?
Freeze ups can be caused by a couple of different things. Lack of air flow and low on refrigerant are typically the 2 most common issues. Dirty filters are some of the main causes of a air flow issue. When the filter becomes too dirty it does not allow the unit to properly flow air across the coil. Not only can dirty filters cause freeze up issues, but it can also cause the evaporator coil to get restricted causing major issues down the road. For standard 1" filters it is best to change them out once a month. Routine maintenance and media filtration are the best ways to help keep these systems from freezing up and prevent serious damage to your system.