Heat Pump & Furnace Repair
FREE Service Calls! Never a trip charge.
Heat Pump & Furnace Repair – By Local, Trusted Pros
When people think of Texas, they picture hot summer days and sweltering temperatures. But when you live here, you know that temperatures drop during the colder months of the year (the snowstorm in 2021 was proof of that). 
It's not often you need a furnace in New Braunfels; for most of the year, your air conditioning system does the heavy lifting. But on chilly nights, you rely on your furnace to keep your house warm. With our furnace repair services, you can make sure your home stays comfortable.
What Are the Most Common Heat Pump & Furnace Repairs?
Even a well-maintained furnace can break down over time. Our furnace and air conditioning contractors often see the following issues:
Dust & debris build-up

. A professional HVAC contractor can clean your furnace.

Faulty pilot light

. If you have a gas furnace, the pilot light may frequently go out or fail to ignite at all. 

Broken thermostat

. The device wiring may be broken or configured incorrectly. 
Insufficient fuel. Your furnace may not be receiving enough gas or power to function properly.
When Should You Call for a Heat Pump or Furnace Repair?
By keeping your HVAC equipment in mint condition, you won't have to worry about your furnace breaking down on a cold December night. The following signs indicate that it's time to schedule HVAC service:
Your energy costs are increasing
When a furnace needs repairs, its energy efficiency begins to diminish. Your monthly bills hike up, even if you aren't using more power than usual. This is an early sign that repairs are in order.
Poor indoor air quality
Do you notice a strange smell in your home? You might think that something is burning. HVAC units contain filters that act as air cleaners; over time, they accumulate with dirt and hair. This could be the source of the odor. 
The temperature does not match the thermostat
No matter how many times you turn up the heat, your house stays frigid and chilly. You may also notice inconsistent temperatures; some rooms may be warm, while others feel chilly.
Our Furnace Repair Services in New Braunfels, TX
Whether you need furnace or air conditioning repairs in New Braunfels, our HVAC contractors are here to help. We offer maintenance services to keep your existing system in top shape.
Classic Air Conditioning & Heating is a locally owned and operated company. We offer HVAC installation, repair, and maintenance services for furnaces and air conditioners. 
We've provided HVAC services in New Braunfels, TX, since 2005. Whether you need routine maintenance or an AC repair, you can trust that we have the knowledge and experience to get the job done right.
Call Classic Air Conditioning & Heating Today!
Is your HVAC system not performing the way it should? With our New Braunfels heating and air conditioning services, you can ensure your home stays comfortable year-round. 
When you work with us, you can expect reliable, friendly, and awesome service every time. To schedule a service call, contact us today!
For more of our services, click here.
Take Advantage Of Our Limited Time Offer!
$97 Off Any Service Repair
Call to Schedule: (830) 358-1499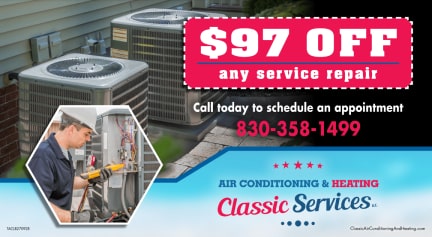 Free Service Calls.  Impeccable Quality & Professionalism!
Contact Us
Schedule a Free Service Call & In-Home Estimate Today.
Classic AC & Heating – Service Area
Based in New Braunfels & Boerne, we serve San Antonio and most of the surrounding Texas Hill Country.  See our service area map & areas served below.