AC Installation New Braunfels
Quality & Reliability. Great Systems – Great Warranties.
New Residential AC Systems
The heat in New Braunfels, TX, is a force to be reckoned with, especially during the summer. You need an air conditioner that can keep up with extreme temperatures. Is it time to replace your AC system?
At the end of a long day, you want to come home to a place that's cool, comfortable, and fresh—not one with a broken air conditioning system. 
At Classic Air Conditioning & Heating, we can replace your old AC system with one that's more powerful, reliable, and energy-efficient. Ask about our mini-split units or central air conditioning systems
When we're sizing an AC system for your home, we consider factors like:
Square footage

The airtightness of your home

Orientation (the position your house faces relative to the sun)

Duct leakage
Once we've determined an appropriately sized AC unit, we'll recommend products that will perform best in your home. We'll go over all your options to find one that fits your home and your budget.
We're very proud to carry Lennox products; these top-of-the-line HVAC systems come with a great warranty, providing you with protection for years to come.  You can check out units they offer here.  You can also call to get info on the latest promotions & rebates. 
When Should You Replace Your Air Conditioner?
Should you pay for an AC repair or have the unit replaced altogether? These warning signs indicate that you're better off replacing your AC:
Skyrocketing energy bills

. If your energy costs are steadily increasing, it's a sign that your AC is working harder than it should. A new unit will be more energy-efficient and save you money on electricity costs. 

Short

–

cycling

. Do you notice that your AC keeps turning off and on? This usually indicates that the unit is improperly sized for your home.
High humidity. Your AC is responsible for controlling moisture levels in indoor air. If your home feels damp and muggy, your air conditioner might be to blame.
The Benefits of a New Air Conditioning System
Here's why you should consider investing in a new AC unit:
Make your home more comfortable
It's impossible to kick back and relax when your house feels humid and hot. With our HVAC services, you can say goodbye to your old unit and hello to a brand-new, high-end air conditioner. You'll enjoy a more accurate thermostat, better humidity control, and consistent temperatures throughout your home. 
Improve indoor air quality
The air we breathe affects how we feel. For those with allergies or sensitivities, indoor air may cause respiratory symptoms. A modern air conditioner will improve air quality to keep your family safe and healthy.
Peace of mind
On the hottest day of the year, you can take comfort knowing that your AC unit will stand up to the test.
At Classic Air Conditioning & Heating, we're proud to be a family business; we're a locally owned and operated company. Providing the best customer service is our top priority. You can rely on us for all your heating, air conditioning, and air quality needs.
What sets us apart in the HVAC industry? Our job isn't done until you're extremely happy with the HVAC system. All of our HVAC contractors are certified and professionally trained.
 For professional service that never disappoints, contact Classic Air Conditioning & Heating. We offer air conditioning replacements, routine maintenance services and air conditioning repairs in New Braunfels for a fair price. To reserve your appointment time, call us today!
For more of our services, click here.
Summer 2023 HVAC Promotions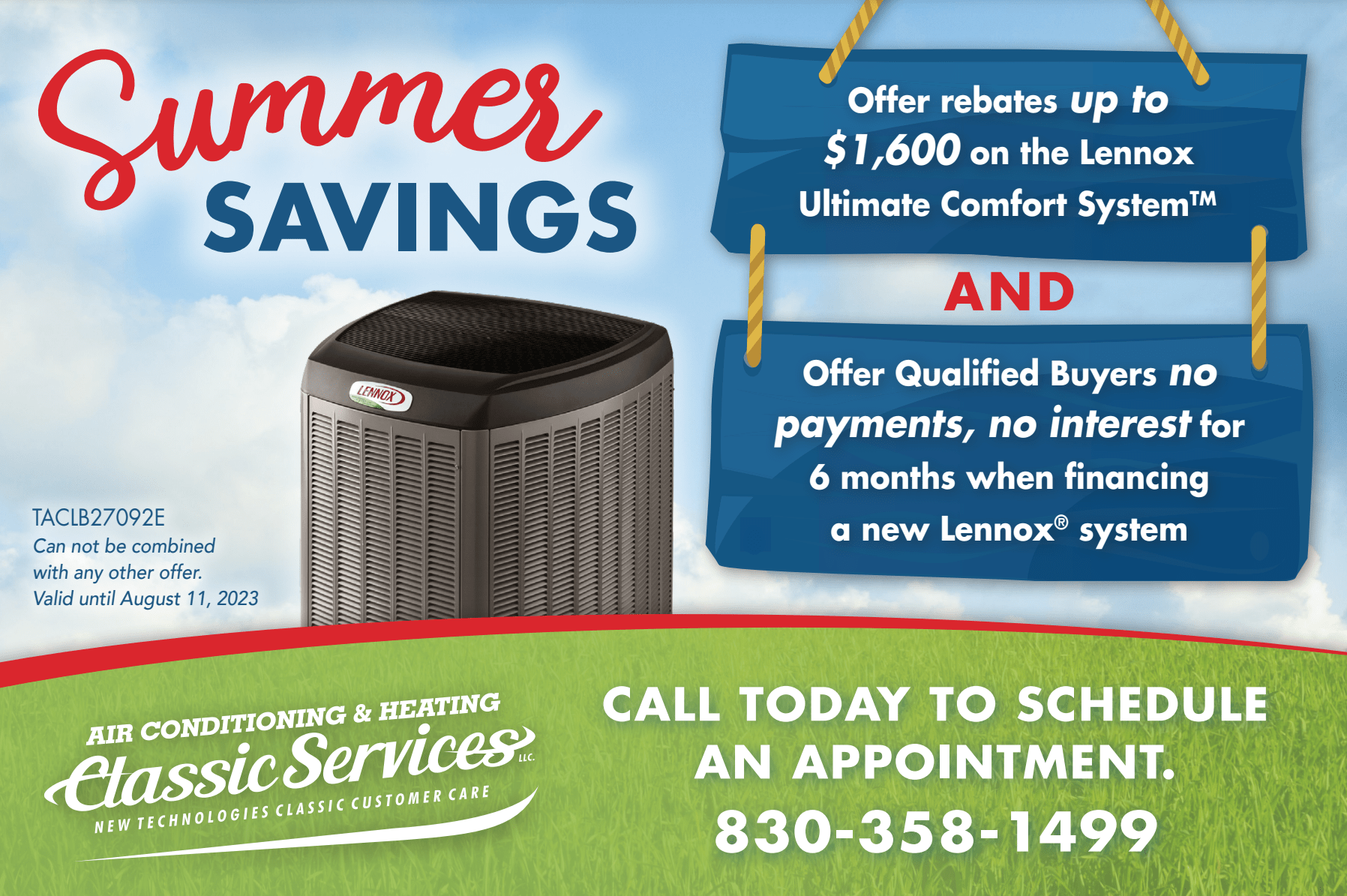 Lennox Heating & Cooling Products
These energy efficient, residential systems create the best air possible for your home. Whether you need a new air conditioner in new braunfels, heat pump or furnace, a Trane system can help you take control of your home's indoor temperature. Add a filter or humidifier to create the cleanest, healthiest air for you and your family.
Lennox air conditioners work more efficiently and quieter to keep you cool and comfortable all year long. Take your home comfort to the next level with variable speed technology that allows our air conditioners to intuitively adjust to your heating and cooling needs. Discover Lennox's most efficient and quietest air conditioners, guaranteed to keep you cool while saving you money and energy.
Lennox heat pumps are an air conditioner when things get hot and a heater when it's cold outside – making Lennox heat pumps one versatile product. In addition to its flexibility, many of these heat pumps are also energy efficient. That means you can enjoy a comfortable home and have some peace of mind when it comes to saving energy.
Every Lennox is tested to withstand the harshest conditions nature and engineers can throw at it – like freezing conditions in a lab or five-inches of water an hour in a Climate Chamber. That's how to get heating and cooling systems you can count on to run through anything.
See the full line of Lennox Heating & Cooling Products.
Classic AC & Heating – Service Area
Based in New Braunfels & Boerne, we serve San Antonio and most of the surrounding Texas Hill Country.  See our service area map & areas served below.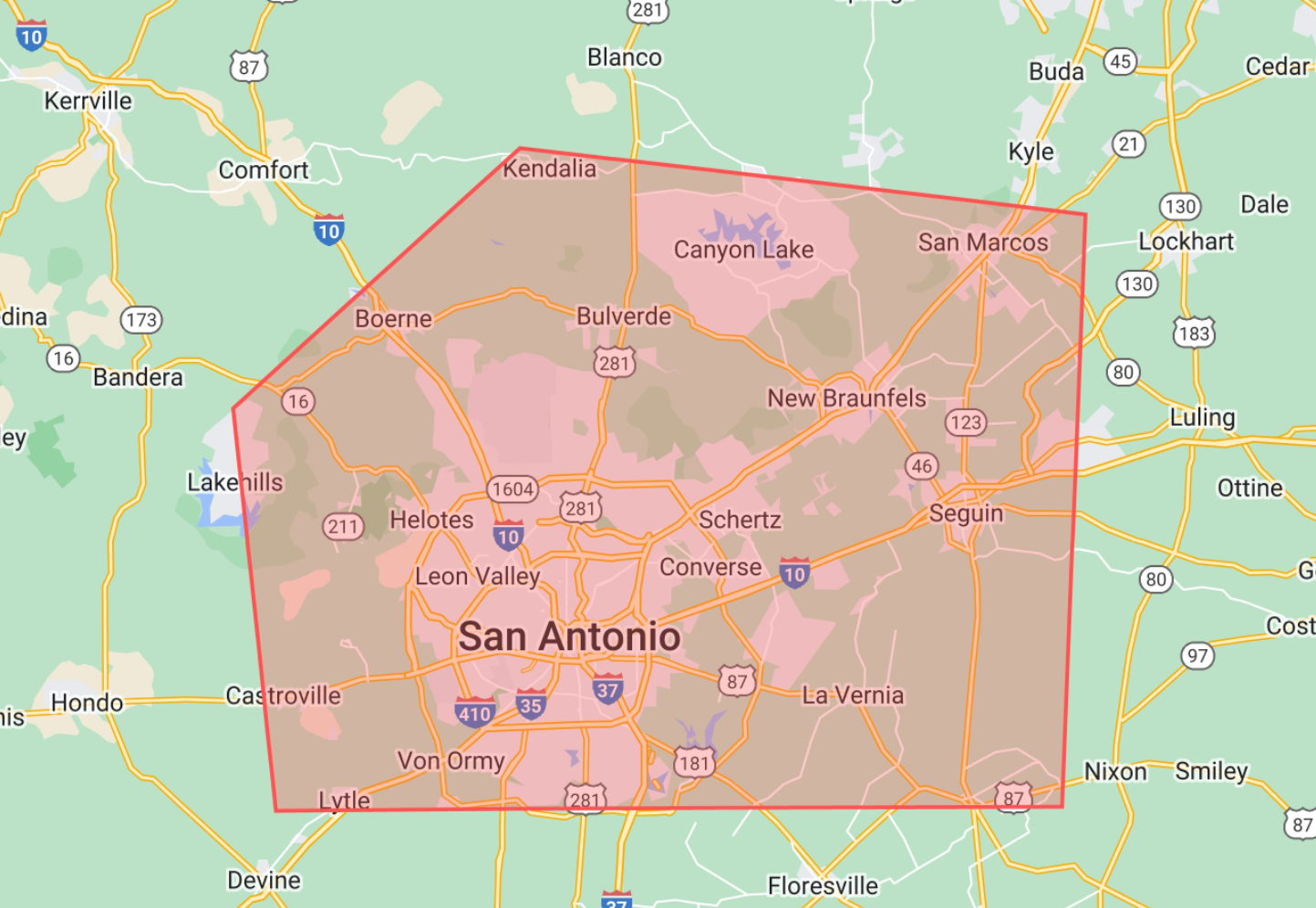 Contact Us if you have questions or want to know more.