AC Repair in New Braunfels & Surrounding Areas
FREE Service Calls! Never a trip charge.
Take Advantage Of Our Limited Time Offer!
$97 Off Any Service Repair
Call to Schedule: (830) 358-1499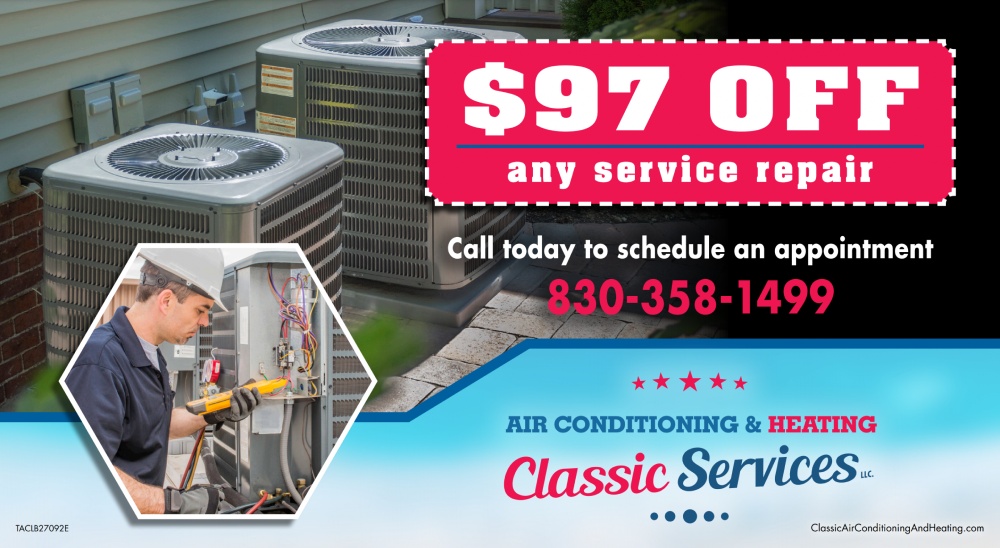 Free Service Calls.  Impeccable Quality & Professionalism!
AC Repair – By Local, Trusted Pros
How does an air conditioner cool your home? It's made up of many components, all of which work together to dehumidify the air and lower the temperature of your house. But if one of these components breaks down, your AC system won't work as it should. You'll need an AC repair – and fast.
Don't be left without air conditioning on the hottest day of the year. Call now to book your AC repair in San Antonio, New Braunfels, or anywhere in our large service area!
The temperatures in San Antonio, New Braunfels, and the Texas Hill Country can be stifling. If your air conditioner breaks down, timely repairs are essential; in a matter of hours, your home will be hot and humid. 
After you call Classic Air Conditioning & Heating, we'll send one of our HVAC professionals to inspect and diagnose the issue. We'll keep you and your family safe with our expert HVAC services. 
We know that in the summer, you rely on your cooling system to keep your home at safe temperatures. We offer emergency air conditioning services for days when repairs can't wait. 
We can help you prevent future AC repairs with our regular maintenance services. With routine maintenance, you can ensure your AC never breaks down when you need it most.
Signs You Need Air Conditioning Repairs
Are you concerned that your heat pump or air conditioning unit needs repairs? The sooner you schedule air conditioning service, the better; a simple repair is much more affordable than an AC system replacement. 
Watch out for these signs, which indicate your air conditioning system is due for a repair:
The unit keeps turning off and on
The thermostat does not match the actual temperature of your home
Inconsistent temperatures from room to room
Loud noises coming from the unit
There is ice on the outdoor unit
Your air conditioner is blowing warm air
The Most Common AC Repairs
In our years of experience, we've dealt with all kinds of common and complex AC issues. We always keep the necessary tools and replacement parts on hand to resolve these problems quickly. Our HVAC contractors often repair the following issues:
Fan repair.

Your AC fan relies on many parts to function properly, including a motor, belts, and lubrication.
Low refrigerant.

We can replace the refrigerant to restore your AC unit.
Clogged condensate line.

We'll prevent water leaks and any inefficiencies by clearing clogged drains.
Dirty filters

. Over time, the filters in your AC unit get clogged with dirt, dust, and dander. We'll replace them to prevent any damage to the system and restore its functionality. 
By repairing your air conditioner, you can enjoy better energy efficiency (which means lower electricity bills) and high-quality indoor air (making your home smell fresh and clean).
At Classic Air Conditioning & Heating, we're a family-owned company with family values. We always put the customer first; it's part of our commitment to providing professional service for a reasonable price. 
When you schedule our cooling and heating services, you'll discover the difference that years of experience make. We offer free estimates to serve you better.
Are you looking for New Braunfels AC repair? Whether you need routine HVAC service, a furnace repair, or a new evaporator coil, we have the tools and the training for the job. To schedule service for your HVAC system, contact us today.
Contact Us
Schedule a Free Service Call & In-Home Estimate Today.
Classic AC Heating – Service Areas
Based in New Braunfels & Boerne, we serve San Antonio and most of the surrounding Texas Hill Country.  See our service area map & areas served below.