Residential & Commercial Services
FREE Service Calls! Never a trip charge.
Don't be left without air conditioning on the hottest day of the year. Call now to book your AC repair in New Braunfels!
The heat in New Braunfels, TX, is a force to be reckoned with, especially during the summer. You need an air conditioner that can keep up with extreme temperatures. Is it time to replace your HVAC system?
Cool your home without ductwork and enjoy the benefits of cleaner air and a more energy-efficient system with a new ductless air conditioning system from Classic. We offer installation, repairs, and annual maintenance—purchase a brand new system from us today and enjoy the benefits of a cool home all summer long.
It's not often you need a furnace in New Braunfels; for most of the year, your air conditioning system does the heavy lifting. But on chilly nights, you rely on your furnace to keep your house warm.
Is it time for a new furnace? Maybe you've been putting off this purchase, or maybe your old unit broke down suddenly. Either way, you need professional furnace installation services. With our furnace installation services in New Braunfels, your home will be warm and comfortable again before you know it. 
Heat pumps are the heating and air conditioning solution for New Braunsfels. Here at Classic, we install, repair, and maintain heat pumps. Interested in a heating and cooling system that will work within your budget? We offer free estimates for installation and repair—contact us today!
Don't live with the poor air quality making you sick. Trust Classic Air Conditioning & Heating to restore healthier indoor air for your New Braunfels home. Our IAQ expertise serves New Braunfels, Seguin, Canyon Lake, San Marcos, and surrounding areas. Breathe cleaner today by contacting us!
Commercial properties in New Braunfels and the Texas Hill Country need the right heating, ventilation, and air conditioning (HVAC) systems to thrive. With the right system, you can save money, ensure comfort for stakeholders, and keep temperature-sensitive assets safe.
Here in Texas, it gets incredibly hot in the summer—and if your air conditioner breaks down, it can be an emergency. Our air conditioning services include repairs offered year round – call us when you need us, and we'll be there.
We're very proud to be one of the only companies in the Texas Hill Country with the knowledge and experience to manage all phases of residential and commercial wine cellar installations.
We have years of experience designing systems that take into account square footage, number of rooms & number of occupants, and we install top-of-the-line HVAC systems from the trusted manufacturer in air conditioning and heating equipment: Lennox. Lennox Systems are backed by outstanding warranties and extremely quiet.
Maintenance Club Plan Members experience significant savings over the life of their system due to regular system tune ups, discounts on repairs, and extended warranties. Call us today to join the maintenance club plan that's right for you!
For professional service that never disappoints, contact Classic Air Conditioning & Heating in New Braunfels. We offer air conditioning repairs, replacements, and routine maintenance services for a fair price. To reserve your appointment time, call us today!
Take Advantage Of Our Limited Time Offer!
$97 Off Any Service Repair
Call to Schedule: (830) 358-1499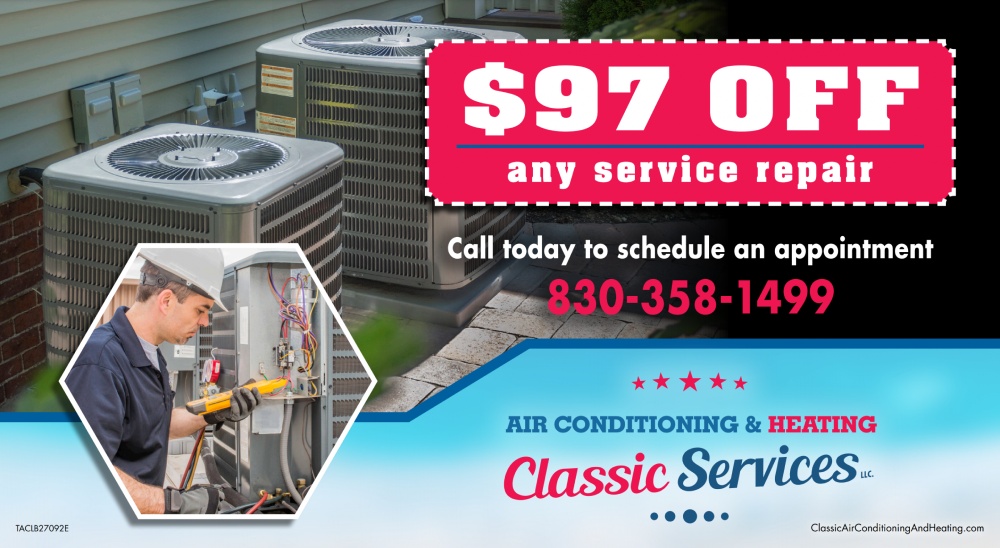 Free Service Calls.  Impeccable Quality & Professionalism!
Contact Us
Schedule a Free Service Call & In-Home Estimate Today.
Classic AC & Heating – Service Area
Based in New Braunfels & Boerne, we serve San Antonio and most of the surrounding Texas Hill Country.  See our service area map & areas served below.
Bergheim
Boerne
Bulverde
Canyon Lake
Cibolo
Fair Oaks Ranch
Garden Ridge
Helotes
Kendalia
Kingsbury
La Vernia
Leon Valley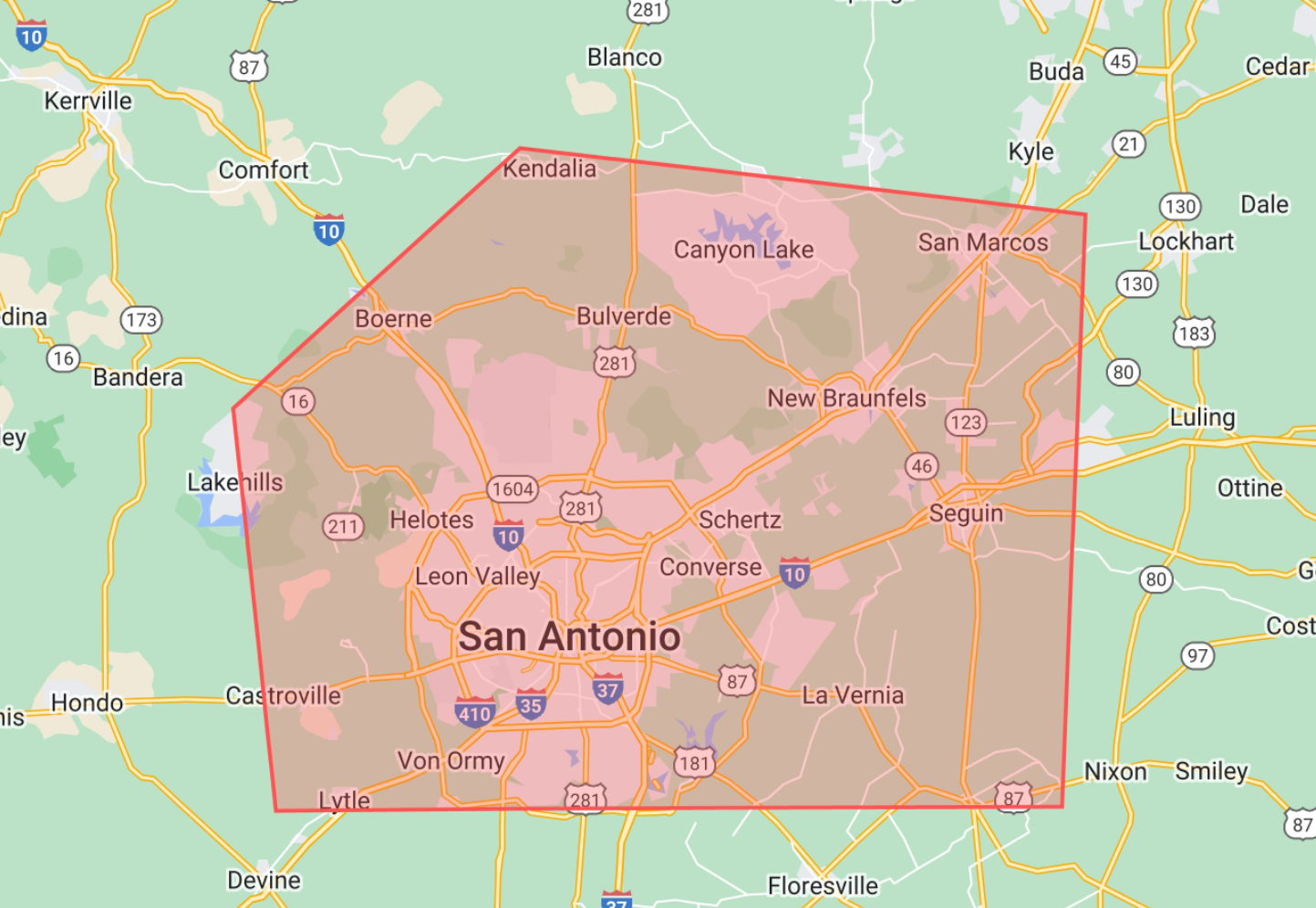 Marion
New Braunfels
San Antonio
San Marcos
Santa Clara
Schertz
Seguin
Selma
Spring Branch
Stockdale
Sutherland Springs
Timberwood Park