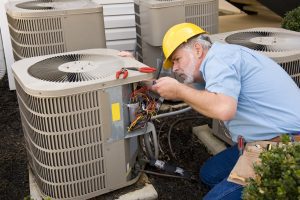 After playing or working in the summer heat, there's no better feeling than walking into a cool home. A well-maintained AC system will keep you comfortable even in the dog days of summer – and in Texas, those days can get pretty hot.
That's why we recommend you get an AC tune-up to ensure your AC lasts and performs in optimal condition throughout the summer. Doing so can save you time, money, and a lot of headaches. Let's talk about some of the many benefits of getting an AC tune-up:
What's the process for an AC tune-up?
Regular tune-ups are essential if you want to keep your air conditioner running as efficiently as possible. Our expert technicians make the tune-up process as simple and efficient as possible. In most cases, the tune-up will be done in about an hour.
You can expect our HVAC technician to run your AC on a number of different modes – this will help them diagnose any possible issues. They'll also shut off power to your AC in order to clean and inspect the unit. That's one of the reasons we recommend doing a tune-up in the spring – we don't want you getting too hot while the work gets done.
During the tune-up, you can expect the technician to perform a variety of services, including:
Checking refrigerant levels, and for refrigerant leaks

Checking and maintaining electrical connections

Checking and securing physical connections

Ensuring there are no abnormalities in the capacitor 

Checking and cleaning the condenser coil 

Checking the evaporator coil for cleanliness

Checking and cleaning the draining system

Check the blower assembly for cleanliness

Checking the cleanliness of air filters; replace if owner has new ones available
At the end, you'll get a written summary of all of the work that was done. In some cases, repairs might be necessary. More often than not, these repairs can be made using equipment and replacement parts found in their truck. When that's not possible, we'll tell you why – and give you a quote on what repairs will cost. 
The primary reasons that HVAC systems fail in the summer
The main reason that your AC will fail in the summer is obvious – it's working much harder. In many cases, people don't run their AC units until summer hits, so any damage that happened during the winter or spring will only show up now.
More specifically, you can see a wide variety of technical issues with your AC unit. These include dirty condenser coils leading to wear and tear, compressor failure, blown out motor capacitors, and clogged condensate drains. 
All of these things are usually caused by poor maintenance. When you call us to tune-up your AC, we'll help prevent all of the major causes of summer HVAC breakdown. What's more, we'll actively look for the signs of any problems – and repair what needs to be repaired. 
The advantages of HVAC maintenance
Longer life
An ounce of prevention is worth a pound of cure – that's as true in the HVAC industry as it is in anything else. Regular cleaning and maintenance will mean less wear and tear, and that means you'll have to replace your air conditioner less frequently. As you know, AC units aren't inexpensive – the longer you can get yours to last (up to a certain point), the better.
Lower utility bills
AC maintenance means you'll save money by having to replace your air conditioner less often – but it also means you'll have lower utility bills. Over time, wear and tear can reduce the efficiency of your unit. A less efficient unit needs more power to cool your home, and those extra power requirements can add up quickly. Regular tune-ups will help keep your energy costs low. 
Reliability at critical times
Your air conditioner is more than just a tool for comfort. When a heat wave hits, it can keep you and your family safe. High temperatures are hazardous – to the point that a state of emergency will sometimes be called.
By getting your AC tuned-up before the first heat wave hits, you're ensuring that you'll be kept cool when it's most important. 
Improve performance
A summer tune-up can do more than just ensure your air conditioner doesn't break down. By cleaning and maintaining your unit, we can help ensure that your entire home gets cooled evenly. At your request,  we can also check that your thermostat is working properly. 
If you had any cooling problems last summer, your tune-up is the time to let us know about them. We can diagnose what might have been causing the problem. In some cases, we may recommend a vent cleaning to ensure there are no blockages. 
Schedule a tune-up today
We just went over a lot of information, so let's do a quick summary. A summer tune-up will:
Increase your AC's life span

Lower your utility bill

Save you money

Keep your AC working during heat waves

Make your home more comfortable

Help prevent breakdown

Help diagnose existing problems

Repair any minor problems

Give you a quote for any major repair work needed

Be done in about an hour
Those are a lot of good reasons to get a tune-up! And when you get your tune-up through Classic, you're getting the support of a dedicated team of highly trained technicians. We're a family company, founded and run out of New Braunfels.
That means we know how intense the heat can get in Texas. We know that you need to keep your family cool – and that means a second rate tune-up won't do. You can count on us to help you stay cool all summer – that's our promise to you. 
So call us today for a tune-up! Even if it's summer when you're reading this – better late than never.